About This File
This is my most ambitious edit project to date.  To give an idea of the original ROM based on a Japanese professional football league (J.League Winning Goal), check out the images below: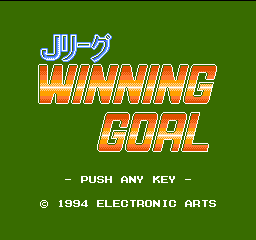 One of the first things I did was to translate the ROM to English.  On ROMHacking.net, there was a patch provided that reduced my workload by about 50%.
Next, I replaced all of the team flags with each country's national flags.  The countries in the game are:  United States, Brazil, Argentina, Spain, Colombia, Belgium, France, England, Mexico, Germany, Italy, and Portugal.  After replacing the flags, I replaced the original team logos with the logo or crest for each country's football association.
After changing the logos, I modified the rosters and ratings for each player to accurately reflect the 2014 World Cup.
The kit colors came next.  I had to go with a team's 2nd or 3rd colors in order to make it as accurate as possible.
Finally, to pander the the Tecmo crowd, I updated the appearance to have more of a Tecmo-feel to it.  The fonts were replaced with those from Tecmo Super Bowl, along with a few color schemes (white on black, white on blue).
In regards to the game, there are two modes:  Exhibition (1 or 2 players) and League.  League emulates a larger-scale pool play in the sense that every team will play every other team once before a Champion is crowned.
---
What's New in Version
1.0.0
See changelog
Released
No changelog available for this version.